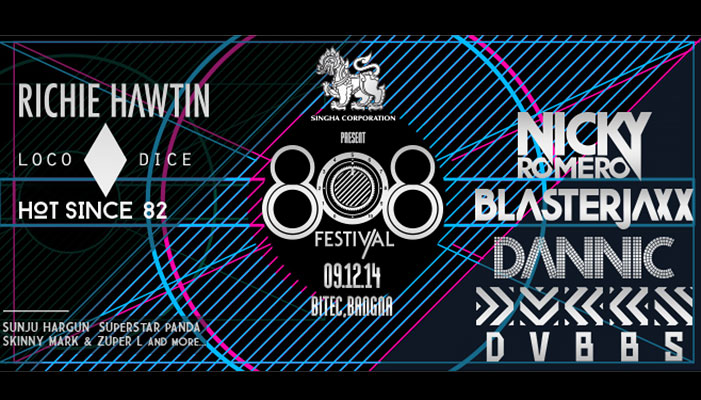 Retox Sessions presents 808 Festival 2014
October 9, 2014
Retox Sessions & Contango
Proudly Present
808 FESTIVAL
December 9, 2014
at BITEC Bangna
To Bangkok, 808 Festival becomes synonymous with quality dance music festival. Thanks to its full-blown debut featuring Steve Aoki, Bingo Players, Chuckie and Bassjackers, the festival enthralled the crowd with an ultimate EDM experience and top-notch production. This year, 808 Festival is back again with an explosive line-up on two stages to celebrate a decade of success of Retox Sessions.
Since 2005, Retox Sessions has established itself as Bangkok's most active electronic music promoter by continually bringing headline performers such as David Guetta, Afrojack, Paul Van Dyk, Benny Benassi, Justice and Steve Aoki to local electronic dance music fans. As one of the main driving forces who promote up-and-coming talents and Bangkok's nightlife scene, Retox Sessions has been running parties at some of the finest nightclubs including Q Bar, Narcissus, Glow and many more. Overseas, it has also hosted events at the famed Winter Music Conference in Miami in 2008 and has worked with Avalon Singapore to launch Avalon at Large clubnight during the Formula One weekend in 2010.
In addition to a long list of events, Retox Sessions has taken Bangkok clubbing scene to new heights with large-scale dance music festivals like Together Festival, 808 Festival, and most recently Road To Ultra Thailand with some of the world's top DJs and producers. Today, Retox Sessions has gained prominence as a brand that promises fresh EDM sounds and world-class experience to Bangkok music enthusiasts.
To mark its 10th anniversary, Retox Sessions teams up with Contango once again to blow out the much-awaited 808 Festival featuring two main arenas taken over by EDM and techno megastars.
Nicky Romero
"The main aim is to up my game at every possible turn without compromise," says the 25-year-old Dutch producer. Nicky Romero is a breakthrough star who now sits at #7 in the DJ Mag Top 100 DJs. In 2009, he sent a bootleg of David Guetta smash "When Love Takes Over" out into the world and nothing can stop him since. His recent studio output includes a track on Rihanna's album Unapologetic, a huge collaboration with Calvin Harris called "Iron", raking up a double platinum status in the UK, a Madonna remix and releases with Fedde Le Grand "Nervo" and the collaboration with Avicii "I Could Be The One" championing Nicky's first official #1 chart position in the UK.
Richie Hawtin
Known to all techno fans as god, Richie Hawtin, aka Plastikman, has relentlessly proved himself to be a true innovator. Being all from an artist, DJ, conceptualist to ambassador — more than anyone else in modern electronic music, the one-man mogul behind the acclaimed techno imprints Plus 8 and Minus is the man who resurrects Detroit techno and always pushes himself to his creative boundaries. As the minimal maestro notes: "It's about setting a standard for yourself and progressing yourself. Showing people you can do something interesting that's more than just dance music," so expect the unexpected when he graces the stage.
Blasterjaxx
Thom Jongkind and Idir Makhlaf, better known as producer/DJ duo Blasterjaxx, are a perfect combination in making music. There's one significant reason for the phenomenal connection between these two personalities: their passion and love of music. Planning on taking over the world with their unique sound best described as a crossover between electro-house, progressive and big room, they are now seen as one of the most promising EDM artists in the world. With big hits like "Faith" which hit the "Dance Smash" status in Holland and "Fifteen" in collaboration with Hardwell, Blasterjaxx landed at #71 in the DJ Mag Top 100 DJs in 2013.
Loco Dice
If you've seen Loco Dice perform at his 10-year-long Tribehouse residency in his hometown Düsseldorf or at DC-10 in Ibiza where he span from 2002-2006, you will know that this German DJ/producer is someone who can puzzle together intangible moods with a direct approach. Through his DJ sets and his productions on labels like Minus, Cadenza, Ovum, Four Twenty and Cocoon, he merges perspectives in his delicate sense for sounds and reflective atmospheres, underpinned with solid, physical grooves inspired by the hip-hop that was his early sonic stomping ground in the mid- to late 90s. Loco Dice never fails to please ravers with his floor-shaking selections.
Dannic
Hailing from Breda in the Netherlands, the hometown of Tiësto and Hardwell, the highly prodigious DJ/producer has already achieved a great deal since exploding onto the scene. Having debuted at #74 in DJ Mag's Top 100 DJs poll last year, he is starting to harness the recognition he deserves. Dannic's first solo track "Doster" on Revealed Recordings received heavy supported from Hardwell and Nicky Romero. Not only that his music remains a staple in the sets of Tiësto, Avicii, Hardwell, Nicky Romero and Bingo Players, Dannic himself demonstrates to colossal audiences his skills and tight technique as a DJ who makes appearances across the globe including at Electric Zoo, Electric Daisy Carnival, Tomorrowland, Mysteryland, Dance Valley and TomorrowWorld.
Hot Since 82
The story of Yorkshireman Daley Padley, alias Hot Since 82, all began in one night when he went out to an Ibiza afterparty. He put his iPhone in and a record he had made came on. This new style of bass-heavy, garage-influenced deep house unexpectedly turned the crowd wild. The track "Let It Ride" released on Noir Music in 2011 and hit #3 on Beatport's deep house chart – making him one of the hottest DJ talents around. Besides his tunes "Knee Deep In Louise", "Like Yo"' and "Houz Thiz", his first installment in Moda Black Records' Little Black Book album series is the perfect showcase for his talents as a DJ and producer and has established him as someone with an appeal across the board.
808 Festival will take place on December 9, 2014, from 6pm onwards
at Hall 106, Bangkok International Trade and Exhibition Center
(BITEC, 88 Bangna-Trat Road Km 1 Road,
02-749-3939, www.bitec.co.th, BTS Bang Na Station Exit 1).
Ticket information
Ticket price(s)

Pre-Event Phase Two 2200 Baht

VIP TICKETS
Vip Ticket Phase Two 2700 Baht
Pre-event tickets are available NOW
at www.amiando.com/808festival2014 and
Will be available on www.thaiticketmajor.com (Call Center 02-262-3456)
Pre-event tickets are available at www.amiando.com and
www.thaiticketmajor.com (Call Center 02-262-3456)
Tickets will also be available at the door on the day of the event
Age restriction: Age 20 years and over. Valid IDs or passports are required for entry
For more information, visit www.facebook.com/808edm
www.facebook.com/retoxsessions
&
www.808festival.com